Tuesday, April 22, 2014

We haven't been able to forget about Ellie Goulding's Coachella performance during Week 1. We loved her so much, we had to recreate her look! The crop top + high waist shorts + chiffon cover up is our fav combo!


Check out these fab crop tops:
Monday, April 21, 2014
Labels: black, cage heels, club, cocktail, cute, day, gladiator, heels, high heels, night, ootd, outfit, spring shoes, style, tan, windsorstore
Friday, April 18, 2014
This Easter Sunday I'll be hanging out with friends for our annual "adult egg hunt". I hate showing up to someone's house without a hosting gift. After much thought I decided to give them something I really love; nail polish! To make it fit the occasion I decided to gift them inside a plastic egg. Here's my creation, but you can alter it to fit your style.
Supplies you'll need:
Nail polish or any small gift
Plastic eggs large enough to hold your gift
Clear plastic treat bags
Crafting paper
Scissors or paper cutter
Stapler or tape
Stuffing
Any type of decor or labels
Step 1: Insert gift in the egg.
Step 2: Place stuffing and egg inside the plastic bag.
Step 3: Cut crafting paper to the width of the plastic bag by 4 or 5 inches, depending on how large you want your "label" to be. Then fold right down the middle. Mine is 5 x 5 inches.
Step 4: Staple "Label" to the top of bag to seal the package
Step 5: Decorate
Posted by

Nail Girl
at 2:25 PM


I had no idea what to make for dinner
on Monday
. I wanted something light, fresh, and tasty! We were running low on groceries and I didn't feel like going to the grocery store. I took out the frozen chicken breast and grabbed a couple sweet potatoes. I saw the bag of lettuce in the back of the fridge and I decided to use that up as well.
A couple weeks ago, I made
bourbon chicken drummies
and they were delicious! I used the same marinades for the chicken breast and they tasted just as great.
Season the chicken breast with the brown sugar bourbon seasoning. Add the chicken breast to a mixing bowl. Pour sweet bourbon over the chicken (about 1/3 cup) and give them a five minute massage. Add another layer of brown sugar bourbon seasoning.
Let the chicken marinate for 2+ hours.(for best flavor)
Preheat the oven to 350 degrees. Add the chicken to a greased baking sheet. Bake for about 20 minutes.
Cut the chicken to make sure its done! I placed mine back in the refrigerator because I don't like hot food on fresh salads. It wilts the lettuce and makes me sad :(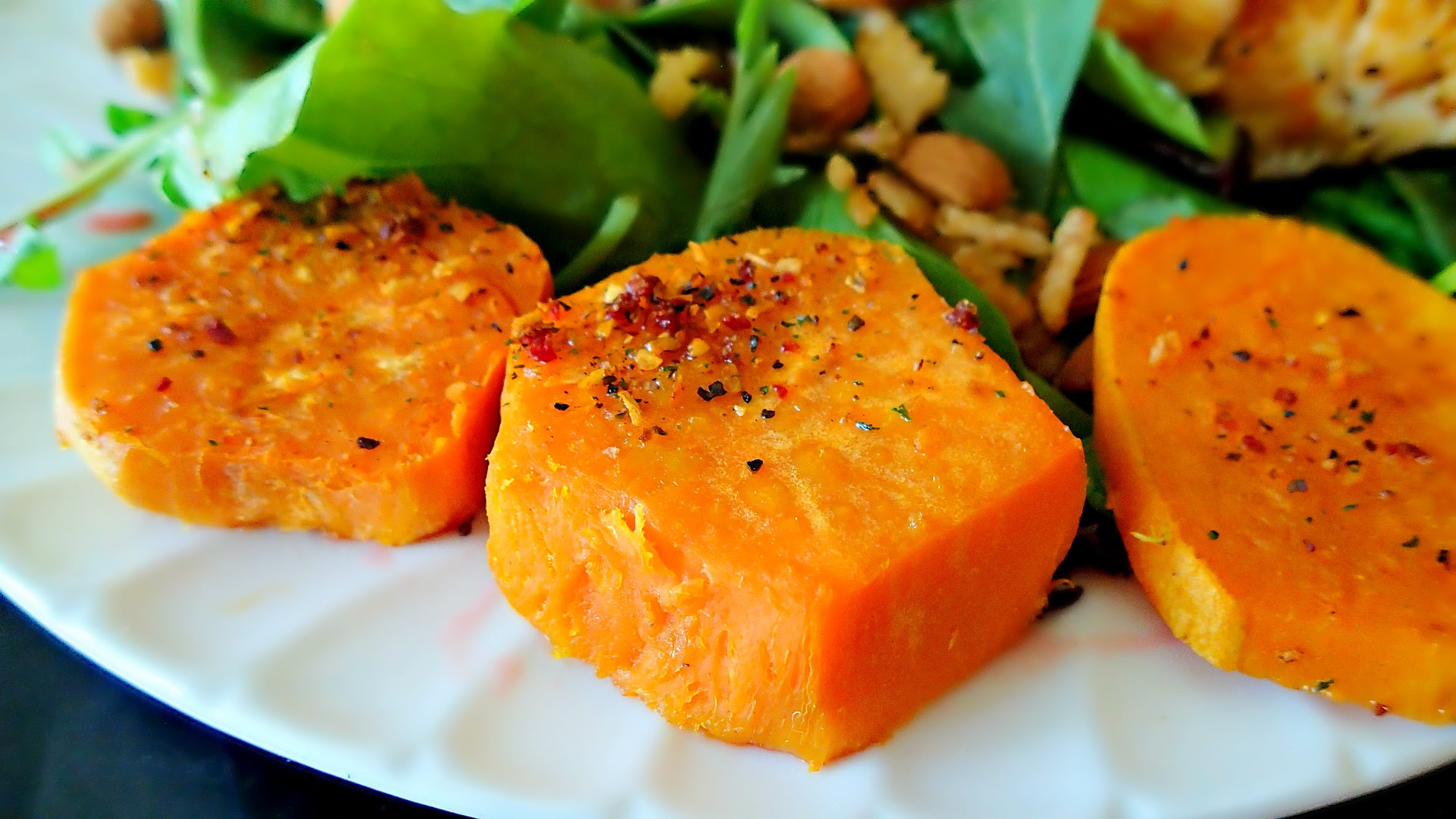 White the chicken was cooling off in the refrigerator, I baked a couple sweet potatoes in the oven with bourbon seasoning on top!
Top the chicken on a plate with fresh spring mix salad (or whatever lettuce you prefer) raw almonds, fried onion crisp, and a raspberry vinaigrette.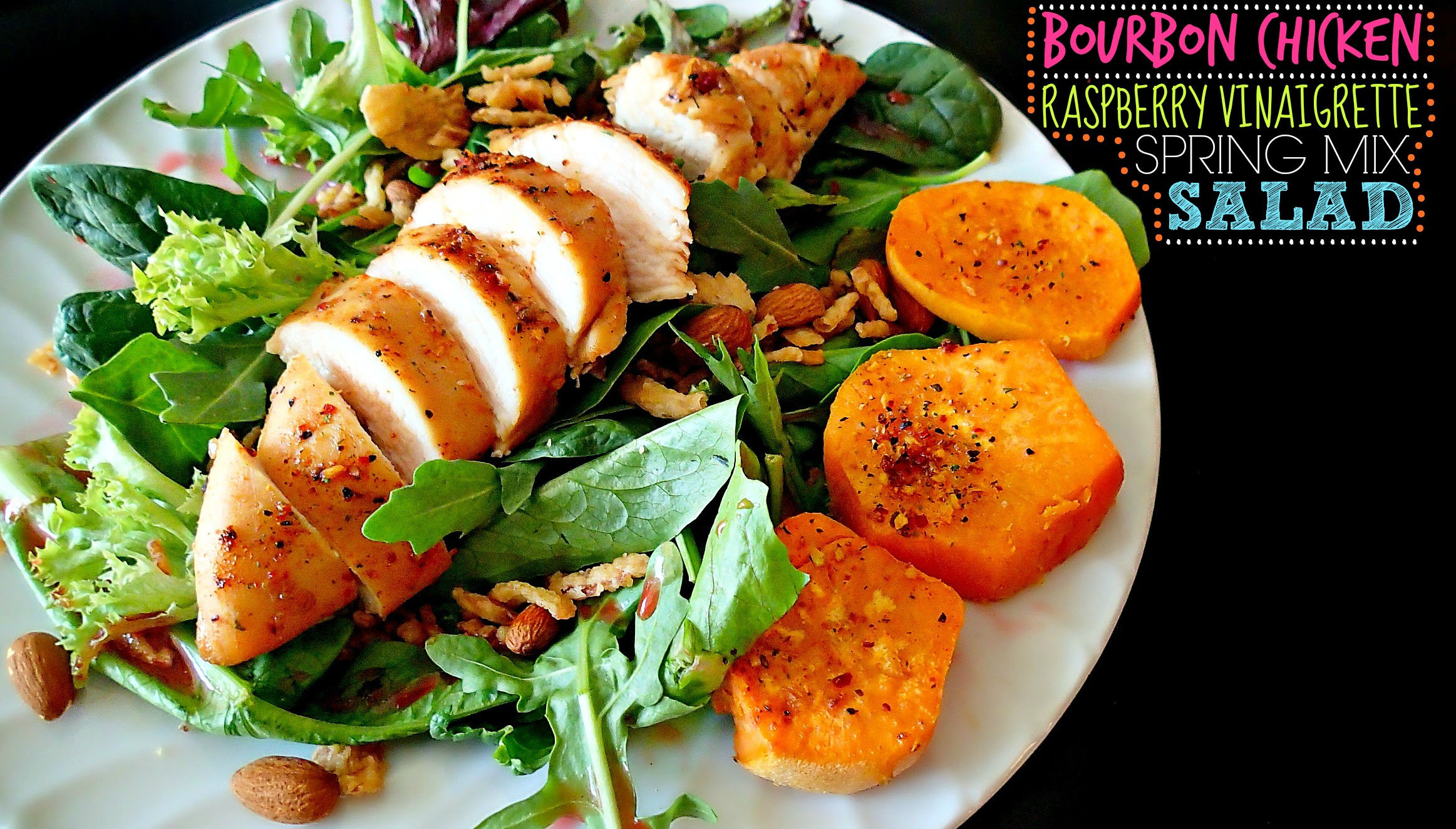 What is your favorite restaurant salad? I'll try to make a healthy version!
Make sure you are following Taralynn on her new site simplytaralynn.com and on Instagram.com/taralynnmcnitt!